There is always a need for appointment scheduling solutions that are both seamless and efficient for users. Online appointment scheduling software has become increasingly prevalent across various industries, covering medical services, oral health, and businesses with multiple users. Here, we will explore the advantages of utilizing LEO online appointment scheduling software, specifically in medicine, dentistry, and multi-user scenarios. Thus, let's find out more!
Convenient medical appointment system:
Using online medical appointment scheduling software facilitates reserving appointments with medical professionals. Rather than relying on conventional means such as telephone calls and in-person visits, clients can access the software via a mobile application or a website. This improvement optimizes the booking procedure, increasing efficiency for clients and medical personnel.
Primary Advantages For Patients
One of the primary advantages is that it enables patients to schedule appointments at their comfort. Patients can access the software at any time, as it is available 24/7, eliminating the necessity to adhere strictly to regular business hours. The ability to accommodate individuals with hectic routines or those needing healthcare services outside of standard hours is particularly significant through LEO software.
Efficient dental appointments for your comfort:
Our innovative software has proven to be a game-changer, simplifying the often complex and time-consuming process of scheduling appointments. For patients, our dental appointment scheduling software offers a multitude of benefits. Gone are the days of calling the dental practice during limited business hours only to be put on hold or redirected to voicemail. This not only saves valuable time but also eliminates the frustration of having to navigate through a busy phone. Once a patient takes the initiative to schedule an appointment, automated reminders are implemented to enhance the overall patient experience.
These reminders are delivered through various channels such as email and SMS and notifications within the designated healthcare application. Utilizing automated reminders is a valuable tool in the healthcare industry. This technology allows healthcare providers to maintain a streamlined communication system with their patients. Upon scheduling an appointment through patient appointment scheduling software, patients are promptly notified of the upcoming event through the convenience of their preferred communication channel. Thus, in today's digital age, the accessibility of healthcare services has been greatly enhanced using our best free appointment scheduling software.
It is easy to beat the competitors:
Using LEO online appointment scheduling software, your business is dedicated to enhancing efficiency and embracing modernization. Your organization is adopting technology to streamline processes, improving customer interaction with your services. The dedication to efficiency conveys a clear message to current and prospective customers that their time is highly regarded and that we are committed to delivering a seamless and practical experience.
How online Appointment Scheduling Help Consumers in Modern Days?
Providing online appointment scheduling aligns with the preferences of modern consumers who are well-versed in digital technologies. You can significantly improve customers' overall satisfaction by offering them a convenient and streamlined method to schedule appointments. Customers who feel satisfied with their experience are more inclined to provide favourable reviews, endorse your services for others, and establish a long-term relationship as loyal clients. Not all businesses within your industry have implemented online appointment scheduling software. You can differentiate yourself from other companies by embracing early adoption or providing an exceptional scheduling experience. Offering modern and streamlined services can give your business a competitive advantage, as customers are more inclined to choose companies that embrace contemporary approaches rather than rely on outdated ones.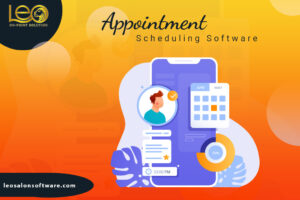 Deal with multiple users at a time:
Certain businesses, particularly those with a diverse team of experts, multiple locations, or an extensive network of contractors, often encounter complex scheduling demands.
Managing appointments for multiple teammates across different places or with various companies offering services can present significant challenges and consume considerable time when performed manually.
Efficient Multi-User Appointment Scheduling with LEO Software
LEO appointment scheduling software, designed for multiple users, has been specifically developed to address the challenges associated with complex scheduling effectively. Our software offers a centralized solution for managing and coordinating all scheduling activities.
In professional settings, such as medical procedures, legal companies, or consulting agencies, it is common for each team member to have their distinct accessibility and area of expertise. The software facilitates the concurrent organizing of appointments with multiple team members. This process guarantees that customers or patients are paired with the most suitable professional according to their requirements and schedule availability.
 LEO best appointment scheduling software efficiently handles appointment management across all locations, ensuring a seamless and organized process. This system guarantees that customers can use services at their desired location while also preventing the issues of overbooking or inadequate utilization of assets at any site.
What Are the Advantages of LEO Appointment Scheduling Software?
One of the primary advantages of utilizing our appointment scheduling software for multiple users is the optimization of resources. It aids in efficiently allocating resources, including professionals, locations, and service providers, to minimize idle time and maximize utilization. This has the potential to result in cost reductions and enhanced profitability. Our appointment scheduling software for multiple users is equipped with integrated functionalities that effectively mitigate scheduling conflicts, guaranteeing the avoidance of double-booked appointments and optimizing resource utilization. This practice minimizes the possibility of overcommitting or causing disappointment to clients because of scheduling errors.
Final words:
LEO online appointment scheduling software provides numerous advantages for businesses in various industries. The medical and dentistry sectors' benefits are evident for companies catering to multiple users. By implementing strategies to improve customer experiences, you can maintain a competitive edge in today's digital era, where accessibility and effectiveness play a crucial role. We recommend you opt for our online appointment scheduling software to boost your productivity.