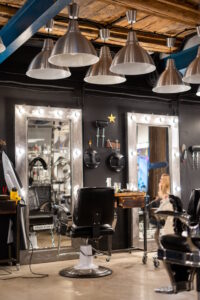 Best hair salon lighting, Hair salons are essential businesses that offer an array of services to make people look and feel their best. The importance of excellent lighting in a salon cannot be overstated. Proper lighting is crucial for stylist accuracy, color accuracy, and creating a welcoming ambiance. In this article, we will delve into the world of salon lighting and explore how it can help a salon shine bright like a diamond!
Light up your Salon with Radiant Results!
The first step in creating a well-lit salon is to assess the natural light available. Large windows and skylights can bring in sunshine and create an open, airy feeling. When natural light is not sufficient, it is time to turn to artificial lighting. The best lighting for salons is a combination of ambient light and task lighting. Ambient light sets the mood and helps clients relax, while task lighting helps stylists see precisely what they are doing.
LED lighting is a popular choice for salon lighting because it is energy-efficient, long-lasting, and has a natural light color that mimics natural light. LED light bulbs come in various color temperatures, measured in Kelvin. For a soft, warm glow that is flattering to skin tones, look for bulbs with a color temperature of 2700K to 3000K. For a clean, bright light that shows hair colors accurately, opt for bulbs with a color temperature of 4000K to 5000K.
Shine Bright like a Diamond with Illuminating Hair Salon Lighting!
There are many lighting options to choose from when it comes to salon lighting. Ceiling-mounted fixtures, track lighting, and pendant lights are all popular choices. When choosing lighting fixtures, it is essential to consider the size of the salon, the height of the ceiling, and the layout of the space. For example, in a larger salon with high ceilings, a chandelier-style fixture can add elegance and drama.
Another factor to consider is the placement of mirrors. Mirrors are a critical component of a salon, and proper lighting is essential for clients to see the results of their hair services. Wall-mounted lights on either side of the mirror are a classic choice that provides even lighting. LED light strips are also popular because they can be mounted behind the mirror, creating a halo effect that is both flattering and functional.
In conclusion, proper light for hair salon is essential for creating a beautiful and functional hair salon. By combining ambient light with task lighting, choosing the right bulbs, and selecting the best fixtures for the space, a salon can shine bright like a diamond. Whether a salon is small or large, modern or traditional, there is a lighting solution that will enhance the space and create a welcoming ambiance for clients. With radiant results, a salon can light up the world one client at a time!
Are you looking for the perfect management software ? Look no further! With so many options out there, it can be overwhelming, with Leo Management System for SPA & Salon, you will find all what you need, Try it Today!