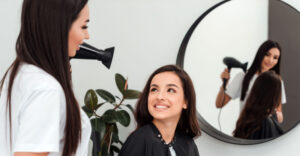 Are you a hair stylist looking to build a strong and loyal clientele? Look no further! With the right tips and tricks, you can keep your clients coming back for more. Here are some ways to build a strong relationship with your clients and keep their locks looking fresh and fabulous.
Hair Stylists, Build a Loyal Clientele!
As a hair stylist, building a loyal clientele is key to long-term success. One of the best ways to do this is by providing excellent customer service. Take the time to really listen to your clients, understand their needs, and offer personalized recommendations. Keep your salon clean, organized, and inviting, and make sure your clients feel comfortable and welcome from the moment they walk in the door.
Another important factor in building a loyal clientele is staying up-to-date with the latest trends and techniques. Attend industry events and classes, read trade publications, and keep an eye on social media to stay on top of what's new and exciting in the world of hair. By staying ahead of the curve, you'll be able to offer your clients the latest and greatest in hair styling and color.
Tips to Keep Your Hair Game Strong!
To keep your hair game strong and your clients coming back for more, it's important to focus on the details. From the way you greet your clients to the products you use in their hair, every little thing counts. Make sure you're using high-quality products that are tailored to your clients' specific hair types and needs, and take the time to explain the benefits of each product to your clients.
Another key factor in keeping your hair game strong is communication. Make sure you're always asking for feedback from your clients, and be open to constructive criticism. If a client is unhappy with their hair, take the time to understand why and make it right. By being responsive and attentive to your clients' needs, you'll build a reputation as a stylist who truly cares about their clients and their hair.
Conclusion
Building a loyal clientele takes time and effort, but with these tips and tricks, you'll be well on your way to success. Remember to focus on customer service, stay up-to-date with the latest trends, pay attention to the details, and communicate effectively with your clients. With a little bit of hard work and dedication, you can lock in loyal locks and grow your business for years to come.
Are you looking for the perfect management software ? Look no further! With so many options out there, it can be overwhelming, with Leo Management System for SPA & Salon, you will find all what you need, Try it Today!